Services and pricing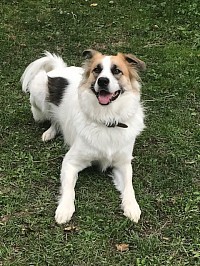 Affordable, fun, effective training
*5 percent of all training/boarding/consults booked will be donated to Danny and Ron's Rescue or another deserving rescue.  Pixie dust for the dogs who are not lucky enough to have a loving home.
PRIVATE TRAINING
$75 per hour at your home within a 45 kilometre radius of Lyn or  reasonable  travel fees apply outside area (.55c per km after 45 km radius)
$65 per hour at the farm.  Large indoor area excellent for off leash work.  Great for dogs that might not be ok in group setting.
Package of 4 privates receives 10% off.
Privates are tailored to your needs and can cover behavioral issues such as reactivity, separation anxiety or resource guarding or if you wish to work on a higher level of obedience not in a group setting.  Please reach out before you decide to rehome your dog and I would be happy to try and help. 
NEW!  Day Training.  $35 per day.  Pick up and delivery possible added fee.  An excellent solution for those who don't want to use daycare.  Dogs will benefit from mental and physical stimulation without the over arousal at a day care center.  No more than 3 dogs a day to allow time to work with the dogs.  Owners will get homework so the dogs training can continue at home.  A great alternative for people who need help but don't want to send dogs away for board and train (that would be me).
Group classes:. Small groups great for puppies and dogs to learn to work with distractions.   Build a confident, focused and engaged dog.
Puppy and  novice dog classes will cover all the basics and much more.  You will learn what makes a polite easy to live with dog that knows how to relax when not working.  Why walking your dog to the point of exhaustion won't fix your issues but why teaching a dog focus, engagement and impulse control will make for much better loose leash  walks both you and your dog will enjoy.  How to start to get that connection that allows you to call your dog and have it come every time if you are willing to do the work and set your dog up for success.  Teach your dog to relax in an xpen or crate and chose to go to their crate.  At a time when dogs are being rehomed like we haven't seen in years owners need to understand the dogs aren't bad, stubborn, premeditating animals, we changed the rules and no one told the dogs and they are frustrated with their humans.  Learn mental games to keep your dog happy and thinking.  Hopefully you will graduate with a whole new perspective how smart and wonderful your dog really is.  
Second level will keep building on the basic skills while adding new commands.  The end results of training should be a dog that is obedient in all circumstances however you also need to have realistic expectations depending on the dog and its background.  You keep doing the work and the dog will keep improving but they are all individuals so enjoy the journey no matter how long it takes.  However when you achieve that amazing off leash heel or the dog you can send to place from 20 ft past other dogs it's very rewarding. 
Group classes are $140 per month for level 1 and 2.  Classes are 1 hour once a week.  
PUPPY CONSULT
Getting a puppy?  It's a big decision as you have them for their life.  Make sure you are getting a breed that suits your lifestyle from a reputable breeder or a rescue.  Reputable breeders are actually charging less now than most puppy mills.  Please don't support puppy mills by buying a puppy without knowing it's history.  If you want to rescue, research the rescue as not all are good. 
A puppy consult is $75 and includes advice on breeds, setting your home up, potty training ect.  If you have already purchased the puppy and need help with potty training, biting, leash walking, impulse control, or any other challenge, it's an hour well spent.
Also happy to do a rescue consult.  Most rescues are great and the dog has been well evaluated by a foster family however some rescues are simply rehomed to the wrong family setting the dog and the owners up for failure.  Case in point my big dog was rehomed 5 times by a year and was strictly a case of wrong homes for this dog …high energy dogs need yards to run or very active owners …not a trading issue a management issue.  I can advise on breed etc for your lifestyle if you want to adopt. 
PHONE CONSULT or video consult is $30 for 30 minutes.  Package is $100 for a month one consult per week with free access to email any concerns.  This is often a much better option than online classes where the perfect demo dog does the behaviour while you are dealing with barking, reactive maniac.  This can be tailored to individual dogs needs.

BOARD and TRAIN 
The dog lives in my home and is part of the family.  They will be worked with several times a day and are always learning.  I'm not a fan of board and trains to be honest because unless the owner puts in the work the dog will not continue to improve.  However the ones I have agreed to take worked out very well because we needed information from the dog to understand what was going on and then I was able to formulate a training plan the owner could continue with.  Please contact to discuss your dog.  All board and trains include 4 hours of follow up private classes either in person or virtual so the owner can maintain the training.  
$1700/ month, $900 for two weeks, $500/week.  Daily updates included.  You are also welcome to send your dog for overnight and include a training session at a cost of $65.
Boarding:  I offer very limited boarding to suitable dogs and can offer excellent references as I'm booked all summer with dogs travelling 3 hours to stay with me that are former training clients.  Very limited space as dogs live as part of my family.  Maximum three dogs at a time unless from same family.  $40 per day/night.   I will only take dogs that I have evaluated as this is not a training situation, it's a great boarding situation on a quiet farm where your dogs will be safe with a qualified professional that understands they are family.  Most of my regular clients have dogs that would not be ok in a kennel situation or like my own dogs have never been around all that noise and chaos and I don't feel it's in their best interest to live in a state of stress even short term.  Must be dog and cat safe.   
Drop in visits or walks in Brockville and surrounding area.  Prices start at $15 depending on needs.
Cat visits or boarding are also welcome.  I have a secure lovely basement apartment that is perfect and safe for cats and away from the dogs.  
Serving Brockville, Kingston, Ottawa, Perth, Gananoque, Smiths Falls and surrounding areas.